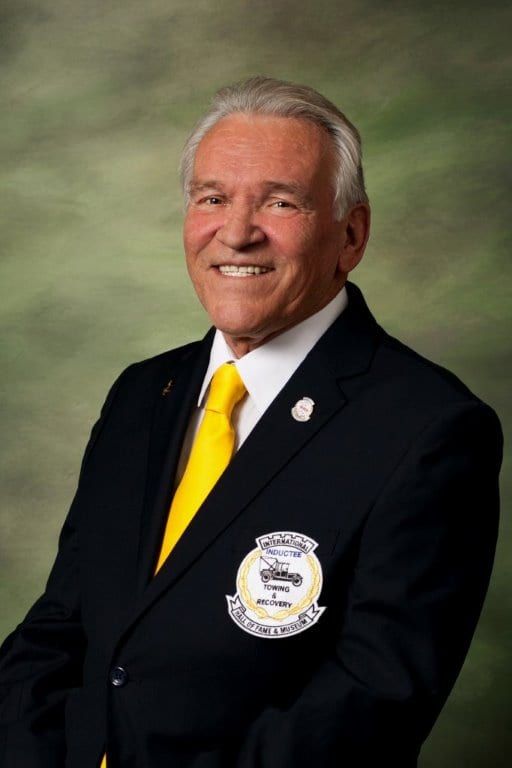 David was born in 1944 in Charlestown, WV. As a young adult David served his country in the US Army and was deployed to Korea. David was always mechanically inclined so it was no surprise that his employment choices always involved vehicles in one way or another.
It's not every day that we get to honor a true pioneer and someone who has had a monumental impact on our industry nationwide.
While working at his father in laws Texaco station in VA one day David was asked to go tow a car. After successfully performing the service, he discovered that it was actually his first repossession and from that point on he was hooked. However it didn't take long for David to realize that the repo business contained some very real dangers. He knew he needed something other than his Holmes 440 to do the job. After extensive research, David came across the Peterson Scoop. The salesman sold him on the fact that he could repo vehicles from inside the cab of his truck. Thrilled by the thought he up fitted the scoop onto his existing wrecker and was ready to get started!
On his first adventure he backed up to a stick shift Camaro, making contact with the vehicle and causing it to roll into the debtor's fathers vehicle which caused a rather hostile situation. Back to the shop he went and off came the scoop! With his passion for tow trucks and his understanding of drivers safety David set out to develop his own device for recovering vehicles. It had to keep the driver safe and perform the services damage free. Spending countless hours at the drawing board, sleepless nights of research and development, and some trial and error the Self Loading Wheelift was created and patented in 1986!
What Holmes did with the tow sling David Craze did with the self-loader.
David went on to become a manufacturer securing his first customer the State of VA who saw the product and immediately wanted it for the highway department so their operators had less risk while getting out of the vehicle. For many who have spent time on the front lines of towing hooking up that car in passing traffic with no room to get out of the cab, performing that private property impound where everyone loves to see the tow truck or even better the debtor who is amazed that after 90 days of ignoring payments someone would have the audacity to repo their car, David has probably played a role in keeping those operators safe and out of harm's way.
David is a true innovator to our industry and because of his dedication to safety has helped us to evolve with one of the most popular changes to date.