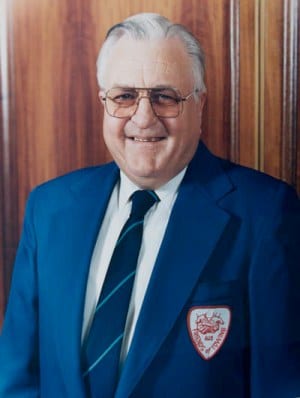 Elected:       March 24, 1986
Inducted:    June 26, 1986
Born:            March 27, 1923
                       Kensington, Melbourne
                       Victoria, Australia
Married:      Josephine Wane, 1944
Children:    Stanley John Wane III
History:      Worked as garage helper as early as 1932 during school years at Kensington State.  In 1936, became garage attendant for Melbourne Motors; worked there 5 years.  Entered Australian Army 1941, served in New Guinea, Port Morsby, Wau Lae, Milne Bay, Rabaul, New Britain, discharged 1944 as Staff Sergeant and returned to former job with Melbourne Motors.
Business Career:  In 1949, went into business for himself, with his wife's help, under the name of Modern Towing in Footscray, an area of Melbourne.  Started with a 3-ton 1942 Chevrolet with a homemade wrecker on the rear.  In 1986, Modern Towing is one of the largest operations in Australia and rated high professional.
Affiliations:          Victoria Automobile Chamber of Commerce
                                          Executive Committee, 1971-1978
                                          Board of Management, 1972-1977
                                Friends of Towing